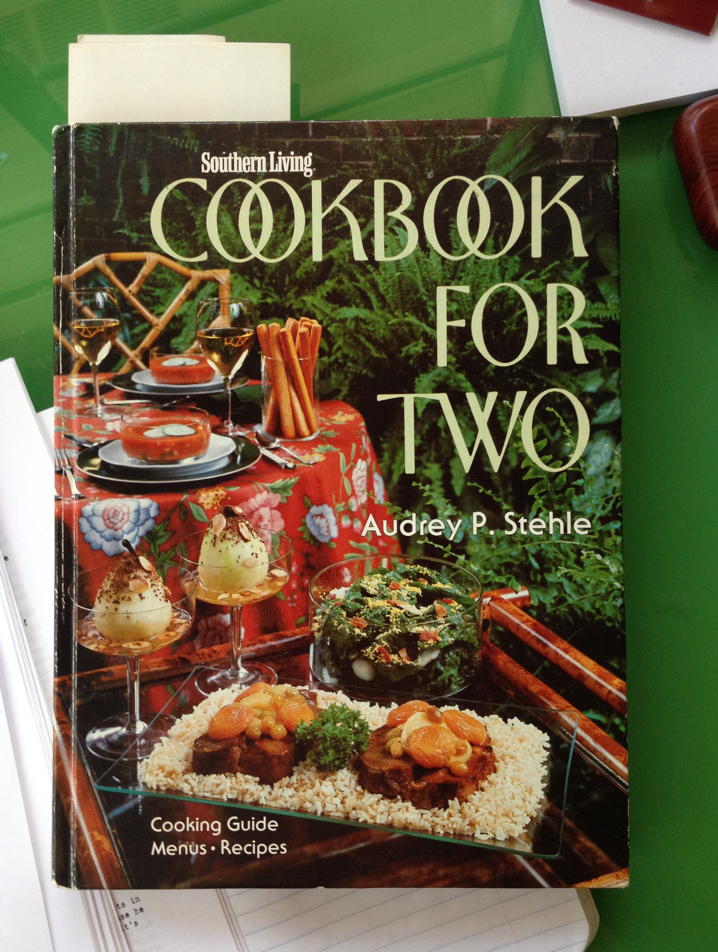 Although it may seem counterintuitive for a blog called "table for one" to review a cookbook called Cookbook for Two, this is the next one on my bookshelf and my cookbook challenge is to review each book, one at a time, in the order they appear on the shelf. And, to be honest, the author's explanation of the benefits of cooking for two apply equally to cooking for one, which is the majority of my home cooking.
Southern Living Cookbook for Two by Audrey P. Stehle is another of the cookbooks I inherited from my grandmother's collection. This one was published in 1981, so I don't think it would be considered vintage. Well, I hope that 1981 isn't yet vintage, or that makes me an ancient relic. This particular copy was given to my grandmother as a Christmas gift in 1987 and is inscribed, "I hope you enjoy this as much as we enjoy ours. Love, Francis and Betty."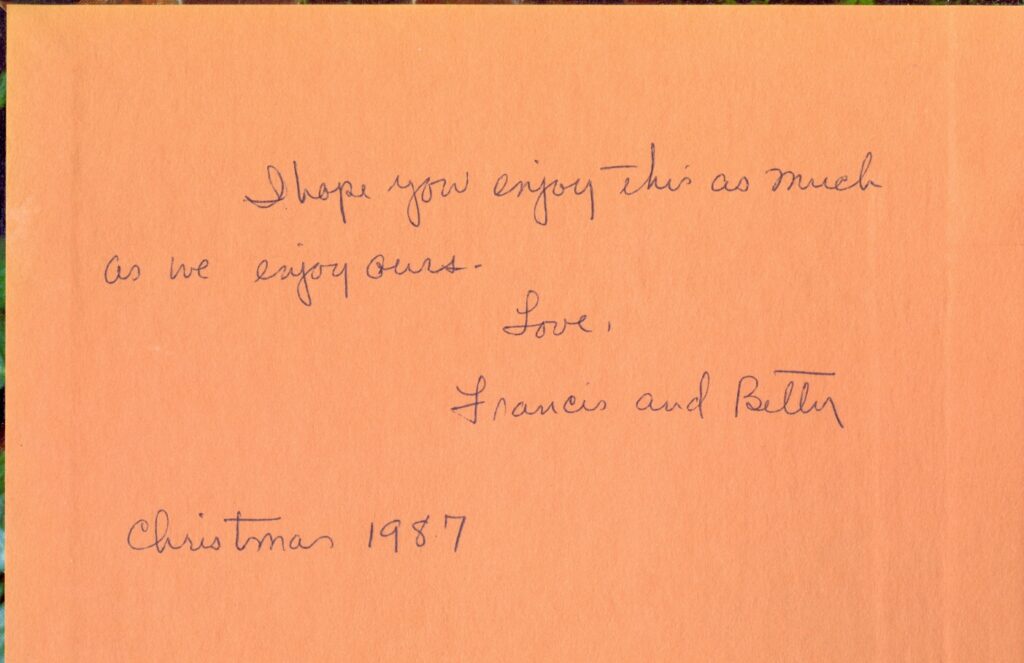 My grandfather died unexpectedly in 1950 and my grandmother never remarried. By the time I came along in the 60s, it was already firmly established that my grandmother and one of her sisters, my Great Aunt Margaret, were living together and they were almost like an old married couple until Aunt Margaret's death in the late 1990s. A cookbook for two was a natural addition to their collection since most of their meals were meals for two.
This is one of dozens (if not hundreds) of cookbooks published over the decades by Southern Living. According to the Wikipedia entry, "Southern Living is a lifestyle magazine aimed at readers in the Southern United States featuring recipes, house plans, garden plans, and information about Southern culture and travel. It is published by Birmingham, Alabama-based Southern Progress Corporation, a unit of Meredith Corporation. The magazine was started in 1966 by The Progressive Farmer Company, the publisher of Progressive Farmer magazine. In 1980, the company changed its name to Southern Progress Corporation to reflect its increasingly diverse business, and in 1985, it was purchased by Time, Inc. for $498 million."
One of the major topics in Southern Living is food, and since 1979, the magazine has published a popular Annual Recipes book each year. In addition, they have published specialty cookbooks, including this one by Audrey P. Stehle.
The author provides a couple of excellent chapters with handy tips on cooking for two. The "Creative Cooking for Two" chapter offers suggestions on grocery shopping, food storage, and how to book larger quantities of certain items which can them be repurposed as part of other recipes. In the "Double-Batch Cooking" chapter she discusses how to double recipes and then how to store the leftovers for future meals.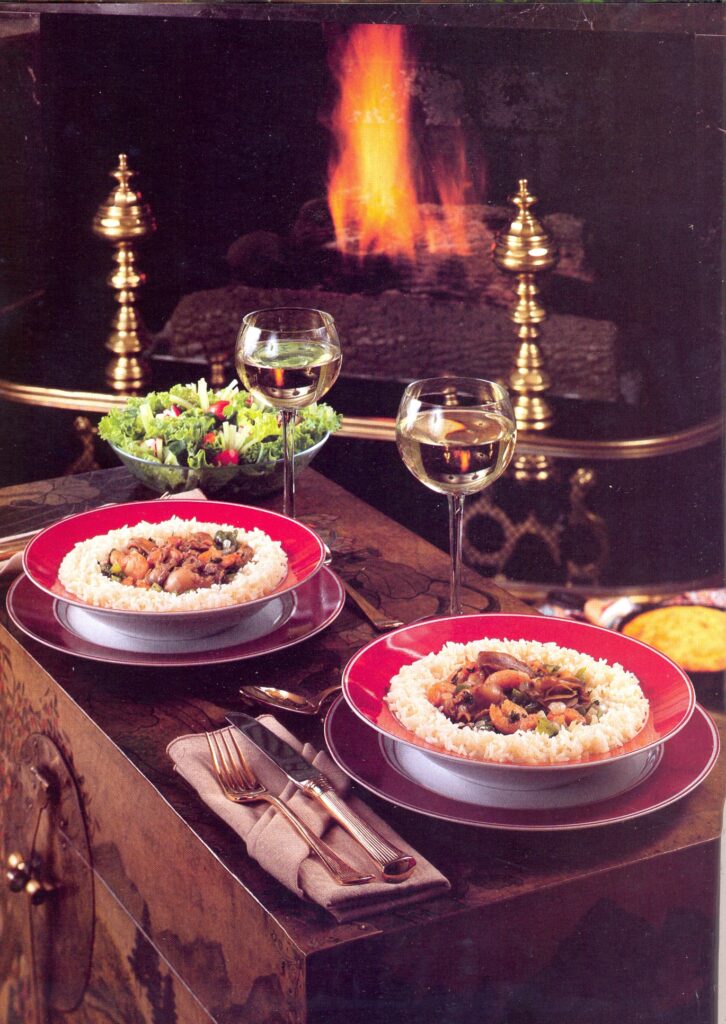 The first third of the book contains a series of 55 menus for full, multi-course meals for two. These are arranged thematically (Breakfast, Brunch, Take-Out Lunch, Special Occasions, Ethnic Cooking, etc.). Each one contains full meals including beverage pairing suggestions (often wine). The wine pairing suggestions are all California-based wines, but the author does suggest what style of wine would be best in case the cook prefers Old World vintages.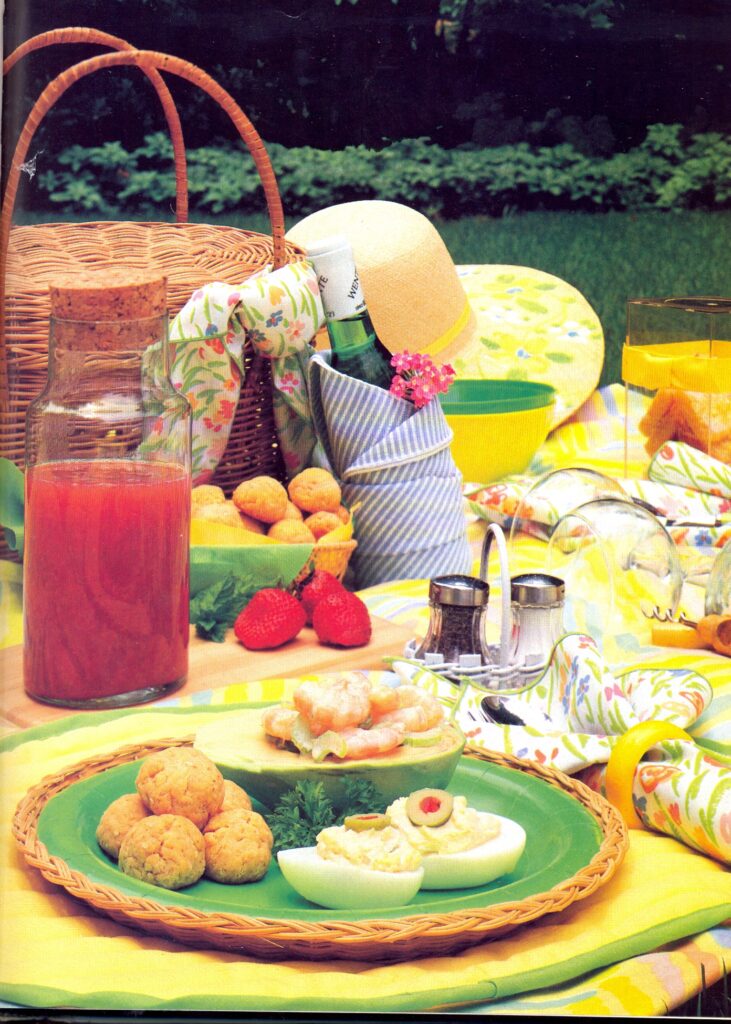 The one odd moment in the first third of the book is a chapter titled "All-Occasion Entertaining." This section contains full menu suggestions for larger gatherings like New Year's Day Buffet, Wine Pairing Party, etc. In general, the recipes are designed to feed as many as 20 – 30 guests. What this is doing in a cookbook titled Cookbook for Two is a mystery to me. Still, some of the buffet meal options are intriguing and a few of the recipes could be adapted down for fewer portions.
From page 141 to page 253, we finally get into the sections with individual recipes for two. This portion of the cookbook is divided into more traditional cookbook sections: Appetizers, Desserts, Vegetables/Side Dishes, Poultry, Meat, Seafood, etc. Nearly everything is simple and straightforward in ingredients and preparation.
Overall, I recommend this cookbook for anyone who wants simple, uncomplicated meals for one or two people. None of the recipes make me think, "Wow! That's spectacular and unusual and I must try it." Rather, most of them make me think, "Nice. That's easy and sounds pretty tasty!" For me, this will be a utilitarian cookbook that I can come back to for inspiration when I need something different to get me out of the occasional cooking rut that I tend to fall into from time to time.
For the more visual of you, here's a link to my YouTube video review of Southern Living Cookbook for Two. You can find a hint to the randomly-generated page and the recipe I am going to prepare at about 6:30 into the video:
I'll be back soon with my cooking demo!
Epicuriously Yours,
Tommy